Maqasid Institute's Research Forum – 2nd session
March 19 @ 4:00 pm

-

7:00 pm

Free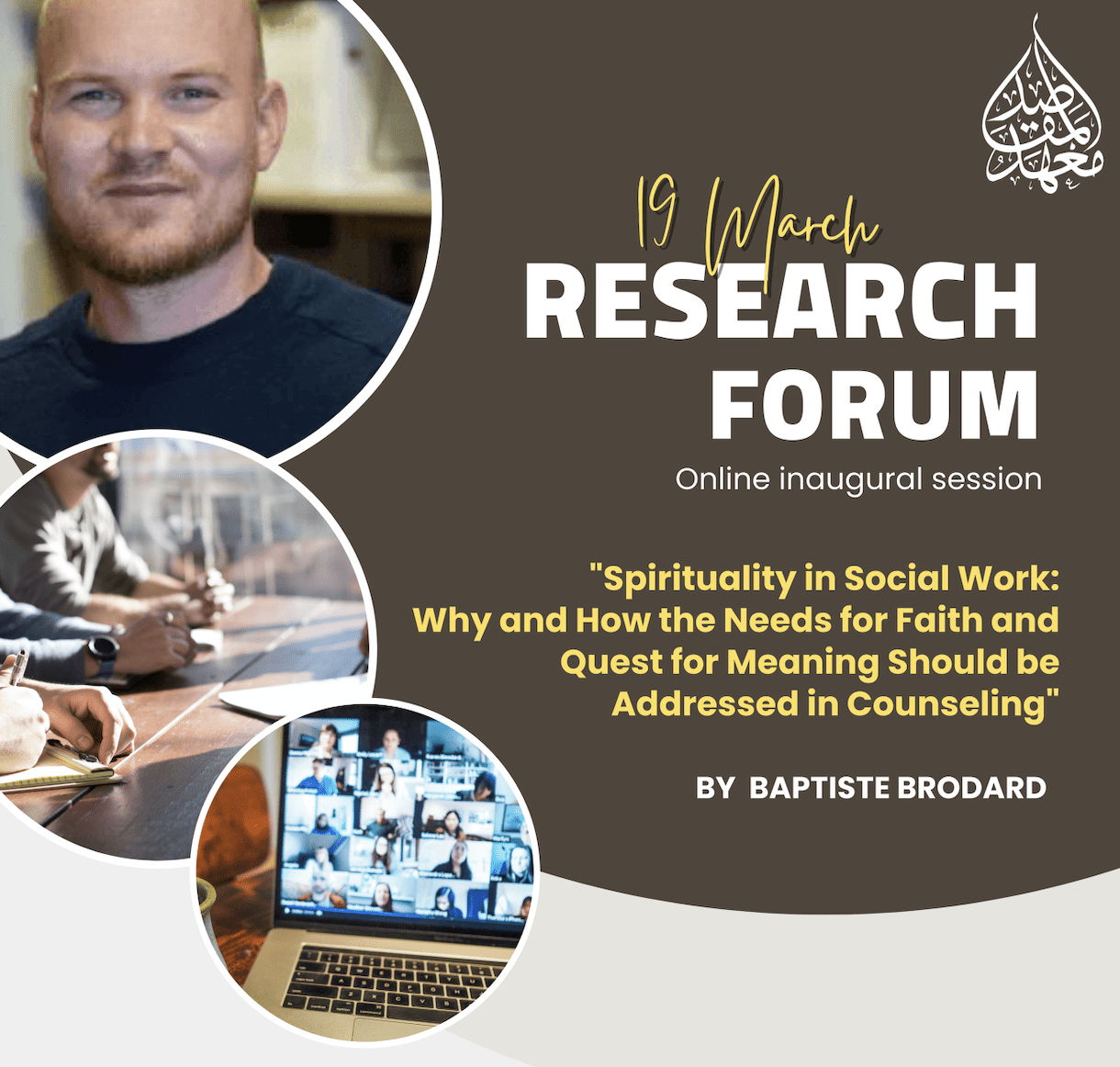 Spirituality in Social Work: Why and How the Needs for Faith and Quest for Meaning Should be Addressed in Counseling
An initial observation is that social work currently faces a crisis. Psychological and social issues affect numerous people, and institutional responses often fail to provide a sustainable and efficient solution to their suffering. For example, the social reintegration of ex-prisoners is low, as is the recovery of drug addicts. Even in countries that allocate large sums of money to social intervention schemes, excluded and vulnerable people suffering from various psychological and sociological problems have difficulty getting out. It could therefore be hypothesized that social action systems remain ineffective in most cases.
Secondly, we notice that the social and psychological aid services are in most cases based on a materialistic vision of the human being. Institutional social work and psychological counseling ignore in most cases the spiritual and religious dimension when they are not downright hostile to it. Moreover, their underlying belief system or intellectual assumption often ignores the spiritual dimension while promoting a materialist view of the world. In this regard, the expectation of beneficiaries to find the "meaning of life" or a reason to endure suffering often remains unanswered.
Nevertheless, some counterexamples show concern for faith-based intervention social work and counseling practices or healing traditions incorporating religious or spiritual elements. While some of these approaches are linked to particular religious denominations, others simply consider the spiritual dimension without being attached to a specific religion. For example, a socio-educational home is intended for the "healing" of drug addicts by proposing an approach that incorporates spiritual aspects by carefully considering the question of the "meaning" of life (Albrecht). Clearly acknowledging the "spiritual development" as being part of the promoted method to help drug addicts and focusing on the "quest for meaning", this example seems particularly interesting to think about what could be a "spiritual" approach to social work. If various social work programs explore the spiritual dimension, it seems that most of them remained attached to religious organizations (Loue, 2017). Moreover, a few cases highlight an "Islamic" way of doing social work (Warden, 2013). However, so-called "Islamic" approaches are likely to remain superficial when they do not risk remaining superficial (see for instance Barise, 2005; Krafess, 2005), as they are not based on a framework founded on a holistic approach to the sacred texts (Quran and ahâdith).
In response to these gaps, this presentation aims at proposing a definition of what could be called an "Islamic" approach to intervention in the area of social work and counseling. For doing this, it first proposes a reflection on the plural nature of man, which implies a spiritual dimension whose needs have to be considered by psychological and social work practices. Secondly, it reflects on the ways an Islamic approach could be framed in both a holistic and teleological approach, using the Maqâsid methodology (Auda, 2021).